Diamond Ezine Author

Custom Card Covers
available here
AND
Check out our full line of Card Cover designs here.
Custom Design at Pre-fab Pricing by DocUmeant Designs
click here
Custom Card Covers
Samples here
For the full line of card pre-printed covers visit my online store at
Cafe' Press
Email Marketing
by
Constant Contact
Promote your business with quarterly re-brandable booklets. Now available
2010 Weird & Wacky Holiday Marketing Guide
, your business calendar of marketing ideas. Order yours today and receive the companion Resource Guide.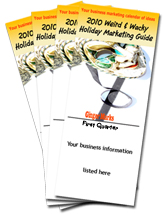 L
isted below are a few of our favorite resources. These sites range from educational to support. We are certain you will find at least one source that you will rely on time and again.
Dropbox

By far the best file sharing service available! Never leave home without a document you need. Upload it to Dropbox and instantly you will have access to it from any computer. Share files with clients. You can also send people links to specific files within your Dropbox. This makes Dropbox perfect for team projects.



Writers One Stop


Luanne Stevenson is a creative writer, who previously worked for the Boston Examiner, as a "special-kids-and –special-education" contributor, writing content for the Education and Parenting Section. She owns and operates writers1stop.com, a fully licensed small business, offering professional writing services.

She is a freelance writer and has written for Ellechor Publishing House and their writing work shop. She is a member of Mediabistro, Women Business Owners, and The Published Author's Group. She has a book project forthcoming that she is writing with Marianne Russo, founder of CoffeeKlatch, also contributes as a writer for the Wordpreneur Network.



My Efficient Assistant


Sandy Parker has over 20 years of experience in providing professional administrative support in a variety of industries including certified author assistance, residential real estate, commercial and residential real estate development, education, technology, manufacturing, and medical.



Pacific Life Coach


Amber Rosenberg specializes in life coaching for women in relationship, career and life transitions. As a life coach, she will help you break through old barriers and develop new practices so you can reach your desired goals.



Avocado Consulting, Inc.


Biana Babinsky is an effective online marketing and business coach. She can show you how to get more online visitors to your web site, more subscribers to your newsletter, gain online recognition, sell more of your products and services, and make more money online. Start learning online business and marketing today.



Ryze Networking Groups


Ryze is an entirely new form of online networking. There are no limits to the number of groups you join, no lead passing requirements, and no attendance requirements.

What it does have are helpful, informative, capable people from all walks of life and from all over the world. Need help? Just ask. The opportunities are endless.



HP Learning Center


Online classes from basic to advanced levels. Free online classes! Try one today. Instructor led courses are available 24/7.



Bartleby


Ever wanted to know how to pronounce a word? Bartleby.com has an audio dictionary link. Try it for yourself.



Quoteland


This is a resource we have found useful when we are looking for an interesting quote on a specific topic or by a specific individual.